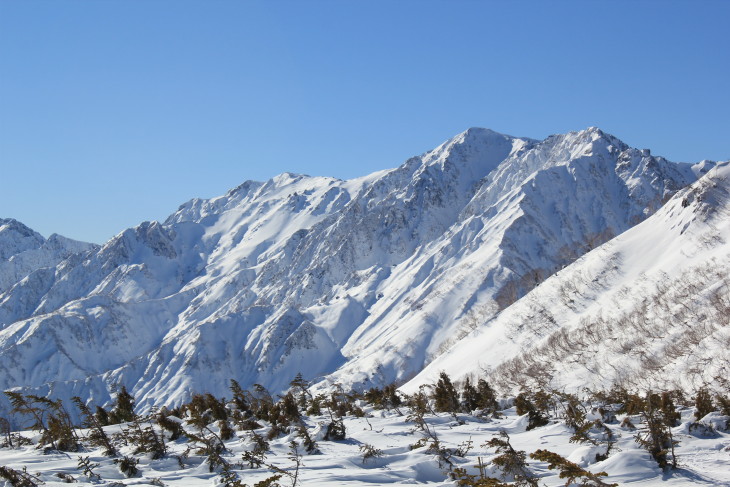 It's no secret that Japan's early season snowpack is a bit below average, but Hakuba's alpine terrain is still delivering deep turns and big smiles. On December 16th, a storm rolled in and dumped nearly 40cm of low-density snow on the upper slopes of Happo One. The following morning, the sun popped out, allowing eager skiers and snowboarders to explore Happo's incredible backcountry terrain. High winds deposited lots of soft snow on to the northeast aspects, and a few Morino employees and locals teamed up to power lap the mellower lines.
Consecutive bluebird days are a rarety in Japan; frequent storms make high-elevation skiing inaccessible for weeks at a time. Luckily, the sun stuck around after the most recent storm, and the peaks above Tsugaike held dry and wind-protected pow. Morino employees Rachel, David and Ian adventured into the alpine and got excellent goggle tans while making endless fluffy hippie turns! Temperatures rose later in the week, and the snow at lower elevations firmed up quickly and turned into creamy mashed potatoes. This warming trend will hopefully allow the next layer of storm snow to bond easily, strengthening Hakuba's early season snowpack.  

Hakuba lacks a standardized weather model, so forecasting here can be tricky. Matt, co-owner of the Morino, has developed his own advanced, top-secret formula for predicting snowfall in the valley. His estimates indicate that Christmas will bring several days of consistent heavy snow, even at lower elevations. Matt's weather projections for this week are confirmed by a few other local resources, so get ready for refills!