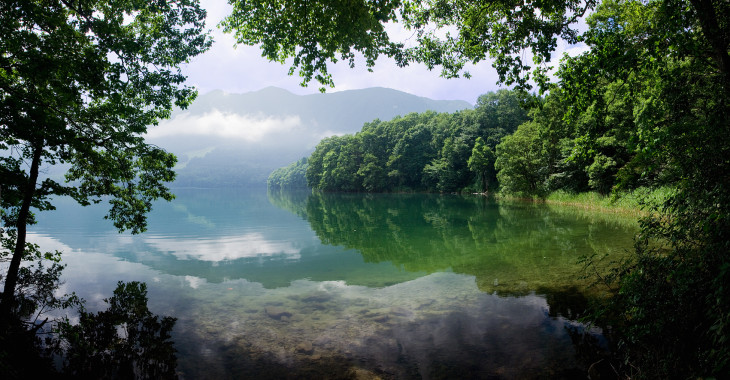 Rainy season is "officially" over & the long hot Tokyo summer has set in. Temperatures in the mid to upper-30s & lots & lots of concrete = not much fun at all.
The good news is that Morino Lodge & all our Deluxe Chalets are open for the summer & Hakuba is full of fun & relaxing ways to cool off.
Here` a list of Morino`s top 10 things to do in the Hakuba summer;
10 –Take a drive down the Azumino Art Line – With stunning views of the alpine landscape, & a dizzying array of cultural attractions, this picturesque piece of countryside is one of Japan`s best kept secrets.
9 – Wakeboard in Lake Kizakiko – Wakeboarding is not as difficult as you think & Kizakiko`s smooth waters is the perfect place to do it.
8 – Visit Miasa – Miasa is a charming little farming community about 20 minutes-drive from Hakuba. "Miasa" means "beautiful hemp" which is what they used to farm here. Nowadays it`s mostly soba & rice. Naturally, you`ll find some of the best soba restaurants in Japan here. But you should also check out Miasa Coffee – a charming straw-bale coffee house on beautiful grounds….a fantastic place for a walk.
7 – Tandem Paraglide – with a qualified instructor, sore amongst the majestic peaks of Hakuba.
6 -BBQ – whether you do it at the edge of the Matsukawa river, on the shores of Aokiko or on the deck of one of our chalets, this is what summer`s all about. We`ve got the bbqs & we`ll take you to the local butcher with cheap "inaka" prices.
5 – Take a Mountain Bike Clinic at Sweetriders – or if you already know what you`re doing, rent a bike & we`ll show you some fantastic trails.

4 – Take a walk – From short strolls in the valley to serious multi-day treks, the Northern Alps offer some of the most stunning scenery in Japan. There`s something for everyone.
3 – Take a nighttime Firefly Canoe Tour – A magical experience for folks of any age, this has quickly become one of Hakuba`s most popular summertime activities.
2 – Go Canyoning with Evergreen – Rappel, jump, slide, swim, down a cool mountain canyon equipped with 15m waterfalls & deep fresh swimming pools. The ultimate refreshment!
1 – Spend the day at Lake Aokiko – There is nothing better than this & if it`s the only thing you do here, you`ll leave refreshed & satisfied. The mountain fed lake is as pristine as it gets, the views are tranquil & the pace is slow. Swim, bbq, read a book, then swim some more. We`ll provide the lawn chairs, hammocks & other toys.
Honorable mention – Take a soba making class, Do the Ex-Adventure Course, Take the Gondola to the top of Happo, Play a round of mallet golf, Take an Evergreen one day Combo Tour, Ride a bike through the valley rice fields, Relax in an Onsen, Get the latest tricks dialed for next winter at the Water Jump, , Cruise the mountain hills on a long board.