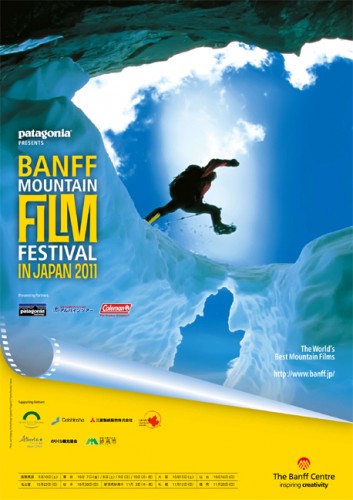 Autumn is in full swing in Hakuba at the moment & the excitement of another winter amongst the snowy peaks of the Northern Alps is is starting to build.  It`ll be not long now that mother nature tilts her axis, once again, bringing meters upon meters of fluffy white stuff to the Hakuba valley making for one of the world`s premier winter playgrounds.
For those who need a little mountain fix asap or just another reason to get you amped for the coming season, the renowned Banff Mountain Film festival is coming to Matsumoto Sunday Oct 30th.
It promises "the World` s Best Mountain Films" with selections like Jeremy Jone`s "Deeper", "A Life Ascending", "Into Darkness", & "Life Cycles".
So if you`re anywhere near Matsumoto on Oct 30th & need some inspiration or just wanna check out some good`ol mountain films….drop on by! Its at the Matsumoto Performing Arts Center (Shimin Geijutsukan) about a 10 minute walk from the station. Program A starts @ 1:00pm & Program B @ 5:00pm.
The Banff Mountain Film festival Tour also stoops in Myoko Kogen on Nov 3rd.
For more info check out – http://www.banff.jp/index.htm
See you there!